---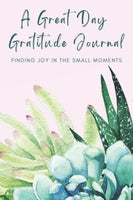 This Gratitude Journal can change your life! By taking a few minutes every day to stop and truly think about what you are thankful for, your negative mindset can be turned around!
Most people don't even realize how automatic it is to dwell on the negative things throughout the day. 
When we recognize the good things that we have in our life, it puts our worries and stressors into perspective. It is important to focus on what we HAVE rather than what we do NOT have. When our attention and awareness is on positivity, positive things in life will begin to show up more and more.
Written by a local Michigan mama!